Immunizations or Vaccinations are critical to the well being of your pet. Vaccinations can protect dogs from diseases like Distemper, Hepatitis, Parainfluenza, Corona, Parvovirus, Leptospirosis, Bordatella and Rabies. Vaccinations can protect cats from diseases like Herpes Virus, Chlamydia, Calicivirus, Panleukopenia, Feline Leukemia Virus and Rabies in cats.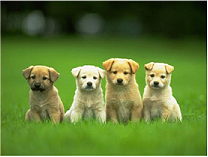 Vaccinations protect pets from disease by exposing their body's immune system to inactive or parts of a type of bacteria or virus. Our doctors will help you decide which vaccines are appropriate for your pet's lifestyle and risk factors. Administering vaccines at the correct age and time intervals is critical for proper protection. Vaccinations are particularly important in young animals. For puppies and kittens, we typically start vaccinations at 6-8 weeks of age and the puppy and kitten series is completed around 16 weeks of age. Mature pets receive booster vaccinations throughout their life. Many vaccinations are given yearly. Rabies in mature dogs is usually given every three years. Our Veterinarians will discuss your pet's risk to disease and recommend the correct vaccination interval.
Vaccination Reminders will keep you informed when your pet is due for vaccination boosters. Our staff can notify you by mail, phone or E-Mail.