Our hospital offers high quality radiology services. Radiology is the study and science of x-rays which can be used to help your veterinarian diagnose a problem or a disease in your pet. X-rays are capable of detecting arthritis, fractures, bony tumors and other forms of cancer; heart enlargement and congestive heart failure; bladder and kidney stones; stomach or intestinal foreign bodies; pneumonia and other lung diseases. X-rays are part of a diagnostic work-up if your pet is having a problem or as part of a wellness exam in an older pet to detect potential problems early.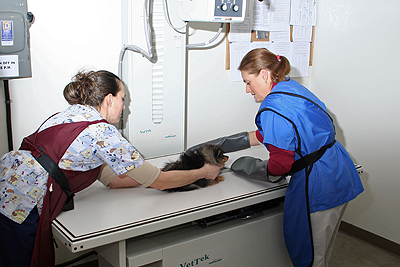 We also take radiographs for evaluation by the Orthopedic Foundation for Animals (OFA). The OFA evaluates radiographs for known orthopedic abnormalities. The OFA helps responsible breeders select the healthiest individuals to use in their breeding program.
In most instances x-rays are performed with a sedative to minimize your pets stress level and discomfort during the procedure. Occasionally contrast agents such as barium are used to enhance radiographic studies. These radiographic procedures can be performed during a brief hospital stay.