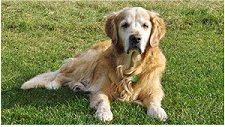 Hunting Ridge Animal Hospital offers Geriatric/Senior Wellness services for your older pet. As our pets reach their "golden years" they require special care. The veterinarians will not only recommend twice yearly examinations for your senior pets but will also recommend certain early detection screening tests. These tests allow the veterinarian to provide an early diagnosis for some of the common diseases that affect older pets. The earlier we find these diseases the more we can do to control or treat them.
Our pets start to require more care as they age and our doctors and staff can help you choose the best treatments and products to keep your pet as pain-free as possible as well as maintaining his or her quality of life. There are many medications and supplements to help our older pets with many of the challenges that arise due to aging.
When the time comes for the difficult decisions we often must face when it comes to our pets, the doctors and staff we be there to help. The decision to euthanize a pet is among the most difficult choices a pet owner ever has to make. Consultation with the veterinarian will help you determine whether euthanasia is appropriate for your pet. During this difficult and emotional time, Hunting Ridge Animal Hospital can guide you through options for your pet's final remains. Our staff can help with options from Burial to Cremation services.